HEALING PRACTICE
Guided meditations relaxation exercises using theta brain
waves that lead to inner peace with healer & teacher
Deborah Knight Eaton

has had a lifelong career in the healing
arts and has studied and taught in the United States, England,
Europe, Australia and New Zealand.
In her private healing and spiritual guidance practice, on the coast of Maine,
Deb, as she is known, works primarily with those already on a spiritual path who
want to go deeper, exploring and releasing barriers to inner growth.
Using deep theta brain wave patterning, relaxation techniques, and gentle voice direction she helps her
clients sleep better, reduce anxiety and open to their inner guidance and creativity at a very high level.
She currently accepts a limited amount of new clients.
Those not able to visit her in Maine can receive the similar benefits in the privacy of their own home with her
new book,

Going Deep

, as well as with the guided mediations based in her book and on her CD,

Going
Deep Into Theta Brain Waves.

Plus Deb's clients have found remarkable results with long distance healing.
At age five, Deb was given an overall view of her whole life, and it has come true. Amongst her her friends
and family she is regarded as a wise woman and a joyful soul. She writes in her BLOG: Going Deep in
Theta, about the remarkable healers she has met and her own journey into her healing practice.
Come along and join! It's a great great ride! Deb
What others say about Deborah Knight Eaton:'s work: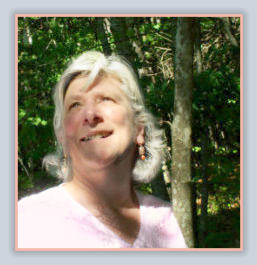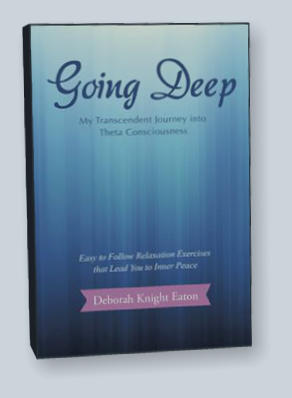 Book + Cd
Purchase Deb's current paperback
book, or ebook,

Going Deep.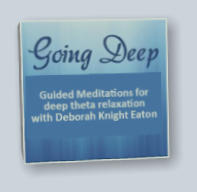 "I never thought I could relax and then I had a theta patterning session with Deborah. She led me into great depths within
me and now I have a profound respect for my inner self." K.A. retired psychologist and social worker.
"I am so glad you are teaching people how to relax deeply. It is so important. Keep doing it!" P.S. retired medical doctor
"I love theta patterning! I can go deep and send healing energy to my husband and I feel like I can do something for him.
This is wonderful!" C.T. marriage & family therapist
"I am on pain medication. Deborah's book, Going Deep, guides me into pain-free moments. I can alleviate the pain and I
feel hopeful. I am so grateful for your work." D.C. cancer patient
"Wow! I see so many colors inside my head! I feel so young inside, like being a kid again. All my stress is gone. It's
remarkable." C.H. executive director
"Deborah, you have a calming presence and I thank you for this approach to healing." J.K. holistic health practitioner
"I have meditated for years and when I read your book, I resonated with this approach to a spiritual truth. This work, helps
me go into spiritual realms that exist within the Self. Profound work." J.M. retired nurse
"I know who you are; you're a visionary, and it's people like you who hold the vision so that other people can walk into it."
Dr. Jonas Salk, 1990
Connect
Newsletter
About
© Deborah Knight Eaton 2016. All rights reserved.




"I highly recommend this simple method for
those looking to go deeper in their spiritual
walk, it is the deepest sense of myself that I
have ever experienced." S.R.G.

Purchase Deb's

Going Deep
Guided Meditations.
Available in both CD and as
instant downloaded MP3 files



Email
You may contact Deb by email using the
form below or directly to this email address:
thetapatterning@gmail.com
You may also use this form sign up here to be added to
Deb's newsletter where you will receive seasonal and
occasional announcements of new offerings including
workshops, publications and any new posts. Just say
Newsletter in the message area.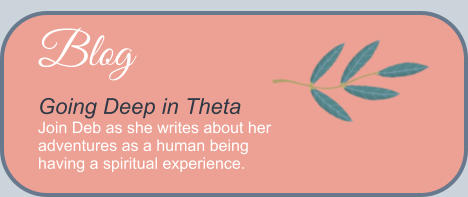 Find your path to theta relaxation and its gift of inner peace.
"We enter theta every time we fall asleep, there is a natural
knowing of this realm, somewhere inside us all."
"You are a human being, and you are precious.
Your life is sacred. It is a blessing you were born."


Facebook
If you use Facebook you may follow Deb's Theta Patterning
page by clicking on the pink dalia above.